Thoughts and Thanks
from our customers
A tribute to Loretta
I cannot thank you enough for my Labradoodle, Loretta. She was the happiest (and cutest) dog ever--tons of personality and full of spunk! She was my best friend, my running buddy, a wise older sister to our younger dog and a true joy to encounter. She was funny, clever and always aimed to please (or to obtain edible rewards). Her repertoire of tricks and enchanting personality earned her a contract with a pet talent agency. She booked jobs on/for: CSI Miami, MTV's Rob & Big, O Magazine, CVS, GE Care Credit, a DAWG Founders Fund and more. She LOVED the water!!! Sprinklers, puddles, water bowls, swimming pools, rivers, lakes and oceans--Loretta did not discriminate. If it was wet, she was there with bells on! Words cannot begin to describe the connection we shared. I feel so fortunate to have been her girl and to have had her be mine. She was a once in a lifetime companion and will remain in my heart forever. So, thank you again from the bottom of my heart.
Alicia Clark
Los Angeles, CA

Clementine is my second Labradoodle from Double L Bar Kennel and she is AMAZING! She is the sweetest and most loveable dog I have ever known. She is the perfect playmate for our 18 month old daughter and a wonderful companion to our older Labradoodle, Walter. Clementine is always happy and looking to snuggle. She's one of those dogs that wags with her whole body and just you can't help but smile when you see her. She's fast, smart and cute as can be. Clementine is a true joy and we could not love her more!
We were lucky enough to visit Double L Bar Kennel in person to pick her out when she was only a few days old. Lane and Laura are wonderful people and they truly care for their dogs. I know it can be daunting to choose a puppy over the internet, but you can rest assured that Double L Bar Kennel is one of the good guys.
Sincerely,
Alicia Clark Middlekauff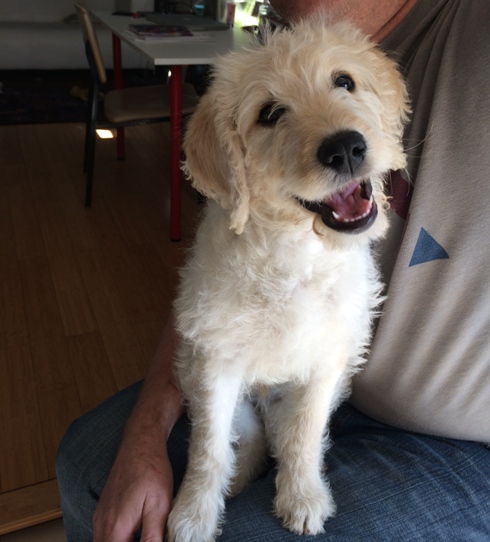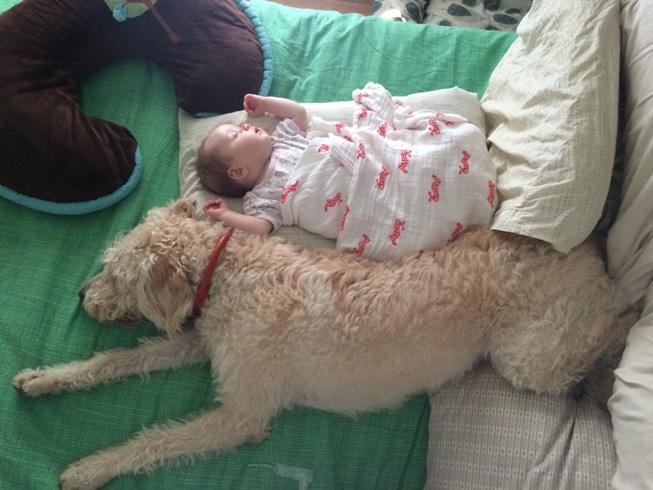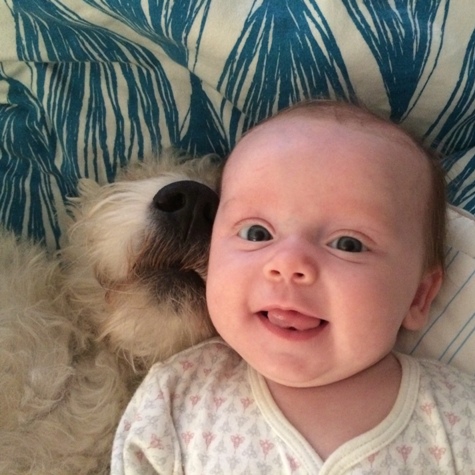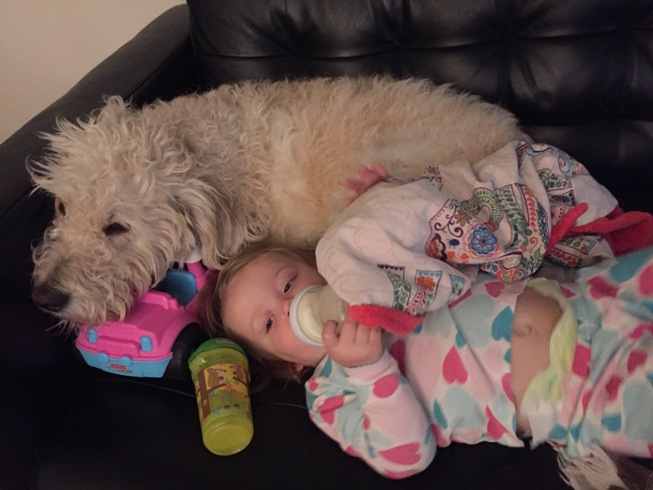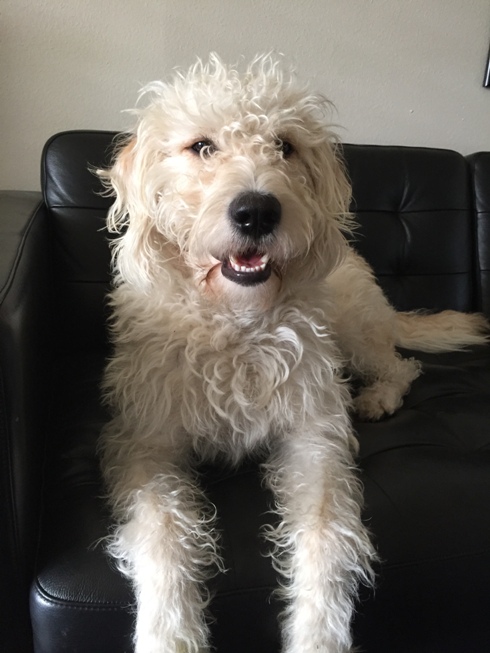 Hi Laura,

Wicket turned 1 year old a couple weeks ago, wanted to send you a few new pictures. Wicket is a great dog! He is very smart and so loving! He would sit in our laps all day if we would let him. He had his "birthday physical" a couple of weeks ago and is healthy as a horse.

Shaylin Williams
Hey this is Tanda and Zac. We bought a Pomeranian from you back in July.
We just wanted to give you a little update. We officially named her Dotty's Prissy Sissy. She loves chew toys, and squeaky toys, to watch T.V. or youtube videos with us and she loves to dance :). She is just the sweetest puppy, and we love her so much!
Thank you again and we hope you enjoy the pictures :)
This is Maxi, she is from Mali and Jag. Her name is officially Maxi Mali Der Blaken-Schvitzen. We are in Woodland, California. Our 5 year old is a rescue and we got Maxi after our old shepard mix died. Poor Lily was very epressed and she was soooooo happy when we brought Maxi home! They love each other very much! Now that the kids are away at college we have oodles of time for our furry babies! We decide where we go to eat by whether they allow the dogs to come!

Kelly & David Jackson

Hi Lane and Laura

Jagger is just about to finish a puppy kindergarten class a week early! Very sharp boy! Potty training was a sinch and he's so great. LOVE THIS DOG! I've gone through a lot of junk the past few months and it always excites me to know that I can walk through the door and he's there to greet me.. I'm so thankful for y'all!

Thanks again.
Casey

Laura/Lane

I am writing you just to let you know about Rayna! I still say she is the BEST dog I have had! I have had a ton of dogs! I have her in an obedienceclass with older dogs! She is doing as well as any of them as a puppy! She is so smart! The instructor uses treats but I don't have to cause she just wants to please! Again I am so glad to have her and to have met you guys!

Gary!


Laura/Lane

We just finished up our obedience class! Out of 15 items Rayna scored EXELLENT on ALL but one and got a good on the other one!!!!! Out of 8 dogs I thought Rayna was the best @ 9 months! All the other dogs were adults! Well tell me what is going on with your shepherds! Gary! 09.27.10

Hi Laura

We bought a male from you, he is the most wonderful dog I've ever known. He's just gorgeous, and has the sweetest disposition. I can't imagine my life without him (Mozart). I've attached a few recent pictures.
Thanks again for breeding such sweet little dogs.
Sincerely,
Joanna

Hi Lane and Laura

It has been a long time since we talked, Daisy, Actually I spell it Dazie, is doing great, She is 8 months old now. I can really appreciate the quality of your puppies as I have watched her grow. She has the most gorgeous coat and an amazing personality! Itís always a risk buying a dog online, but buying one from your two was really a great experience. Dazie graduated from puppy obedience when she was 4 months old. She can walk on a leash, sit, stay, lay down, jump up, spin around and roll over, etc. I have attached some pictures of her life so far. She is adorable and truly a joy.

Thanks again

Chile
The day I fell in love was the day I met Tank. I didn't know I could love a little creature that only weighs 6lbs, but I do! I received Tank right after my fiancť, at the time, had moved to Quantico, Va from Texas to attend the first of his Marine Corps officer training schools. I needed a little companion and Tank is just what the doctor ordered. His "little" personality is not so little. The name Tank, which my now husband came up with, fits him to a "T" as they say. He definitely thinks he is more around 60 lbs instead of only six. Trent, my husband, fell in love with him too. He is very loving and LOVES to be held and carried around. He is also very brilliant. He can sit, lay, shake, high five, roll over, speak, come, stay and "give mommy kisses." He potty trained very easy too. It only took me around four weeks. I also never had any problems with him ever chewing on anything or marking things even though he is a male. He has been the perfect package pooch. Now I can understand what the saying "man's best friend" means only for me it means "woman's best friend." Tank has been just that. Thanks Lane and Laura! God Bless!

Meredith Mays
I thought you might enjoy seeing what Winnie is doing these days! I am training her to be a therapy dog, right now that includes trips to Home Depot and Lowes just to get her used to paying attention to me with distractions. She is doing very well. She will soon be ready to take for her Champion Dog Certification test. I will be taking her to nursing homes, hospitals and schools eventually. Right now at 10 months old, she is well ahead of the other dogs in her training, but still has a lot of puppy behavior mixed in. Puppiness is just fine with me, I am not rushing her, she will be great when the time is right.

I love her bunches and enjoy her so much,
Hi Lane and Laura,

I just wanted to share a few pictures of Winnie (Winchester). She's a sweetheart with a happy personality. She loves her "sister", Bella, a rescued racer.

We still live in Colorado during the summer months and in Venice, FL in the winter. She loves both places and both she and Bella are excellent travelers.

Winnie is very smart. She rings a bell to go out, closes doors, turns off lights and dances. She loves to have her tummy scratched. Winnie is a huge hit when I take her to Venice Island shopping strip for a stroll. We can barely get down the street due to all the attention she attracts.

Hope all is well with you. Jolene Hamel, Winnie and Bella






I am very happy with the service of Laura at Double L Bar.

I got a white shepherd and he is beautiful and he was partly potty trained and good sit at my command.

I order him from OK

to Arizona with very good service.

I never saw the kennel, but I talk to Laura a lot and she answered all my request.

This is Sam, he is beautiful and is everything that I wanted in a puppy, he is the greatest.

Jerry Wilson

We bought Malibu in October.

We absolutely love her.

She is so smart and very sweet.

She is very active and loves everyone.

She graduated from puppy class at Petsmart several weeks ago and is currently in intermediate class and doing very well.

She did more tricks than any other dog in her puppy class graduation.

ou guys are the best and Malibu is the best.
Hi Laura.

Lisa and I were married on August 31st and Malibu was in the wedding. She ran Lisa's ring down the isle to me. It was really cute. Our photographer took a pic of her getting dressed and then of her at the ceremony. Malibu also stood up when everyone else did as Lisa entered at the start of the ceremony. It was hilarious. One of my friends was able to take a pic of that too. We love our little girl so much! Hope you all are doing well.

Jason McGinnis
Hattie is absolutely wonderful!! I have actually have had people stop their cars when we are walking to tell me how pretty she is.

What a joy Hattie has been.

Marlene
J

ust an update on Midget. She is doing really well. She is very friendly, but quite a chewer. Loves those electrical cords. Also loves kids. I am trying to get her out to be around people. So far she has been to the Pet Supermarket, Home Depot and my brothers house.
Maggy is such a cutie. I LOVE her! She is a bit of a chewer, but that's okay.

Thank you so much once again!

Kristen

| | |
| --- | --- |
| | Thank you so much for Hannah, She is such a joy, I donít think I could find a sweeter puppy anywhere. Hannah is exactly as you described her. The whole family simply loves her and cannot get enough of her. She is such a happy and healthy little girl. Thanks you for keeping us up to date with pictures alone the way until she could come to us. Also, thank you for answering all of our questions. You were always so fact at replying to our emails. I would and will recommend you to anyone looking for a Shih-Tzu puppy. You guys are the greatest. ~Ray and Julie Grimm, Buckley, WA |
Thank you so much for sending us this little Angel. We love her so much. Please know that she is so loved and cared for. I will recommend you to anybody that ask me for a pom or any of the other dogs you breed, I will tell them to go to you for their puppy. Again thanks so much.

Denise Virigilo, New Jersey
Nermal is doing fine! She is smart, shy, and lazy~

Cheers